Thank you for your interest in being crowned Crawford County Fair Queen!
We are looking for a young lady that will represent our fair as an "ambassador" of the PA fair, farm, livestock, and agricultural industry. Someone who understands and can speak to the fact that livestock products make up about 69% of Pennsylvania's yearly farm income, that the top crops are hay and corn, and that the state ranks first nationally in the production of mushrooms, producing approximately 443 billion pounds annually! Agriculture keeps Pennsylvania going and offers many exciting career opportunities in STEM and agriculture-related areas.  The Crawford County Fair has promoted and highlighted agriculture and the youth of the county at 76 fairs and counting!
2023 Crawford County Fair Queen Contestant Pictures & Bios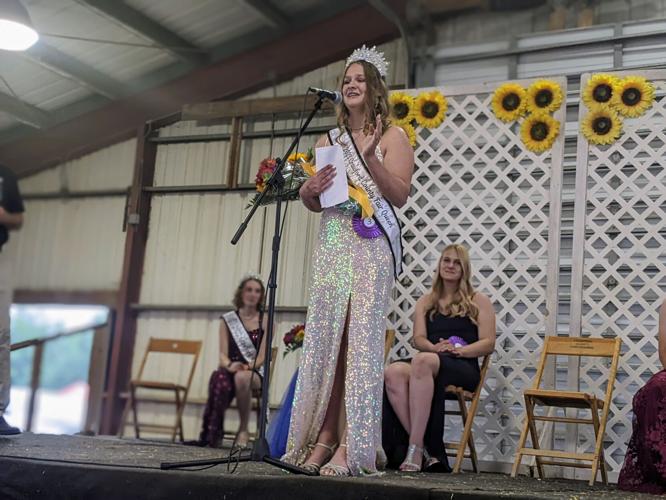 Camille Turner
Savanna Manross
Kendall Craft
Sarah Moshbacher
Crawford County Fair Queen qualifications are as follows:
Be a female who is a US Citizen and resident of Crawford County or a surrounding county in Pennsylvania.
Must be at least age 16 but no older than 20 years of age by June 1st of the year entering the local contest.
Be certified as the winner by the local fair where she was crowned.
Have not been a former local Fair Queen winner, nor a former PA Fair Queen contestant.
Not hold any other state title for any other commodity group or pageant during her reign.
Have her parent(s)' or guardian(s)' consent to enter the competition.
Be single, have never been married, have not been pregnant nor given birth to a child.
Act in accordance with the PA Fair Queen "Behavior's Policy". (See Packet)
Meet all time commitments, Queen obligations and "Dress Code" as set froth by the PA Fair Queen Program. (See Packet)
Follow the Crawford County Fair Queen Contest Dress and behavior Codes.
Reside in Crawford or a surrounding PA County. (Erie, Warren, Venango, Mercer)
Attend fundraisers, publicity events and all scheduled practices.
Volunteer at the Fair during Fair week.
If you have any questions, please feel free to email: ccfair@co.crawford.pa.us – Attn: Cheryl Hamilton
Awards
Miss Crawford County Fair/Ambassador
First Runner-Up
Best Essay
Miss Photogenic
Judging
Three judges from out of the area will serve as the judge's panel. Judging will consist of:
3-Minute speech presentation: "Why You Should Visit Crawford County Fair"
300-word essay: "Highlights of Your Personal Fair Experiences"
Personal Interview (20%)
Knowledge of the Crawford County Fair and PA Agriculture (25%)
Poise, personality, respect, and character (30%)
Speaking Ability (25%)
Information packet and mail-in application
Please click on the button below to download, print, complete, and mail the form. You can mail the completed form and attachments to:
Crawford County Fair
Attn: Fair Queen Committee
903 Diamond Park, Meadville, PA 16335
or Email ccfair@co.crawford.pa.us with subject: Fair Queen Committee
Please direct any questions to the fair office at (814) 724-3022.
You can also fill the on-line application below.
Please review this packet of information carefully and return the following by August 7, 2023:
Completed application
Responses to the questions on the Question Sheet (from Packet)
Signed Responsibilities form (from Packet)
The following items from the Candidate Packet are due at Orientation on Saturday August 12, 2023.
Hard copy of your completed application.
Completed 300-word essay.
A letter of support from an advisor of a 4-H, church group or another club/group you belong to.
Completed $150 sponsor fees from local sponsors/supporters. (Checks to the Crawford County Fair Association)
Signed Medical Permission from and Photo Permission Request form.
Signed Crawford County Fair Responsibilities of the Fair Queen Form.
Framed collection of 5×7 and 8×10 pictures of the candidate, not more than five pictures, for display in Home Show Building 1.